Welcome...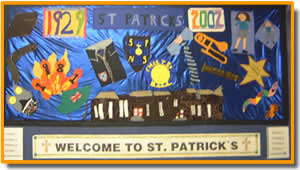 The aim of St Patrick's Primary School is to provide for all pupils a quality education with a curriculum that is appropriate to each child.

Equality of opportunity for the child must have a high priority to ensure intellectual, social and spiritual development.
We are a community of faith in St Patrick's Primary School and regard our role in the lives of the pupils, their families and the parish as one of great importance and privilege. We promote fairness, equality and tolerance and strive to develop our children's skills and abilities to their highest potential in an ethos of happiness and mutual respect.

We teach, by example, respect for others regardless of creed, colour, ability or gender.

We work towards creating a community of faith and love.

We endorse N.L.C.'s motto of 'Aiming Higher' and strive for continuous improvement in our school.

The parents who have entrusted their children to us can be confident in the knowledge that we aim to help our children to develop and grow to become happy, well-adjusted members of society in a caring Catholic environment.